On 8 November, StAMP will launch their Virtual Conservatoire, a new and permanent feature of the five-year StAMP project. The online learning environment builds on the successful format of the StAMP Brass Camp held in July, which hosted participants from all over the world for seminars, ensemble rehearsals, performance classes and other events.
Full details of the event's programme and how to register are available on the StAMP website at:
https://stamp.wp.st-andrews.ac.uk/virtual/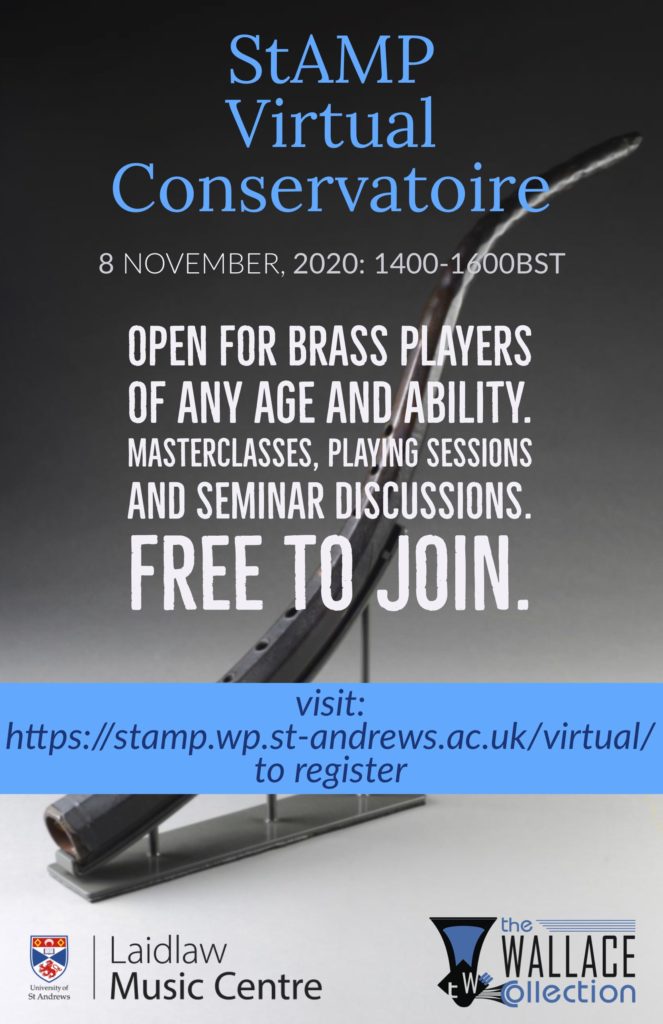 The launch of the Virtual Conservatoire welcomes brass players of any age and ability from anywhere in the world. Richard Michael, Honorary Professor of Jazz at the University of St Andrews and a recent collaborator with members of Wynton Marsalis' rhythm section on the Benedetti Foundation Virtual Sessions, will lead all participants in well-known tunes which he will teach by ear with aspects of improvisation. Musicologist and expert Trevor Herbert (editor of the seminal book The British Brass Band among others) will join with Richard in a panel discussion with The Wallace Collection about self-expression and interpretation in brass performance.
The Wallace Collection will also lead a session on Prosper-Aginor Mimart's brass septets from the 19th century. The Wallace Collection recently made recordings of all six Mimart septets on period instruments and will share their insights about these seminal pieces of brass chamber music that provide a missing link in the evolution of brass music and performance.
Music will be available for anyone who wishes to join in and play these approachable pieces.
Sandy McGrattan and Stephanie Dyer will also introduce two of the most important brass instruments from the Italian Renaissance, the cornett and sackbut.
Brass Band luminary Sheona White will host a masterclass in the week leading up to the Virtual Conservatoire. Tenor horn players from all around the world are invited to take part and as many as possible will play for Sheona and each other.
---
Latest from StAMP website: